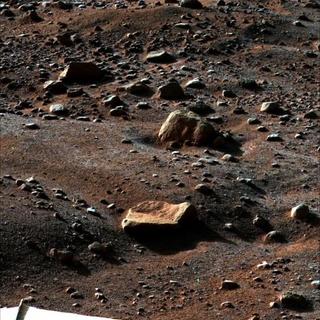 Morning Frost on Martian Surface
Image credit: NASA/JPL-Caltech/University of Arizona/Texas A&M University
Mit den Worten "
NASA Mars Lander Sees Falling Snow
" beginnt eine Pressemeldung der
NASA
von heute. Der Phoenix Mars Lander hat bei der Beobachtung der Atmosphäre Schnee entdeckt. Es ist zwar kein Schnee aus Wasser und er schafft es momentan nicht bis auf den Boden, aber dennoch Schnee. Schneefall assoziiere ich immer mit Ruhe ... draußen und auch innerlich. Schnee auf dem Mars klingt für mich wie wahr gewordene Science Fiction. Wenn ich die Gedanken schweifen lasse sehe ich vor mir ein Bild von Menschen, die Millionen Kilometer von der Erde entfernt hinter einer dicken Fensterscheibe stehen, auf den steinigen Boden des Mars schauen und es schneit.
Und nicht zuletzt beeinflusst durch Filme wie aktuell "Wall-E" frage ich mich, ob der kleine Phoenix wohl einsam ist, so weit weg von zuhause. Und jetzt muß ich mir unbedingt die Rah Band mit "Clouds Across The Moon" (1985) anhören.